Case Study
Self-Assessment Guide for Head Start Staff
The National Center on Parent, Family and Community Engagement supports family well-being, effective family and community engagement, and children's school readiness.
The National Center is jointly administered by the Office of Head Start (OHS) and the Office of Child Care (OCC).
The National Center on Parent, Family and Community Engagement developed a self-assessment guide called "Markers of Progress" to support Head Start program staff. The guide determines staff's level of engagement with parents, families, and communities. The guide walks staff through an assessment process to identify strengths and weaknesses, supports the creation of action plans to prioritize strategies that strengthen engagement, and identify ways to track progress for continuous improvement. The National Center partnered with Story+Structure to develop both print and digital experiences for the Markers of Progress.
Solution
Human-centered approach ensured all wants, needs, and behaviors were taken into consideration

Digital + Analog Experience that could be used interchangeably or by itself
Challenges
Scaling a solution across 1,600 Head Start programs

Creating an experience across print and digital
Challenge: Gathering Empirical Proof
When The National Center for Parenting, Family, and Community Engagement (NCPFCE) first approached Story+Structure, the focus was on designing a digital solution. However, since technology and resources varied from program to program, a printed version of the guide was needed as well.
For example, California has the largest Head Start program and is led by a large administrative body with layers of leadership based on strategic and tactical needs whereas West Virginia has a much smaller organization led by a central office that organizes its effort through a few team leaders.
With that requirement checked off, Story+Structure worked with NCPFCE on gathering empirical data from real users. Recognizing the size of Head Start and given a tight timeline, we interviewed a handful of programs that best represented the diversity of size, resources, and organizational structure.
NCPFCE also put together local, Boston-based groups to ultimately test prototypes and the final solution.
Creating a Singular Experience for Print & Digital
The self-assessment guide was developed by a team at NCPFCE in line with their evidence-based methodology. The final format was delivered as a sixty page document. We worked with NCPFCE to determine how best to organized and present the information across two different media. Since the guide is a linear experience, the printed version served as an initial framework.
From our brainstorming, the team decided to design for a singular experience that seamlessly connected two different media solutions. This meant we developed a set of design principles that could be shared across both media. For example, collaboration in the digital space required a user interface that could allow all participants to gather around a screen or project the desired goals onto a wall to facilitate conversation; the print analog was a pull-out poster that could be taped to a wall for a more focused discussion.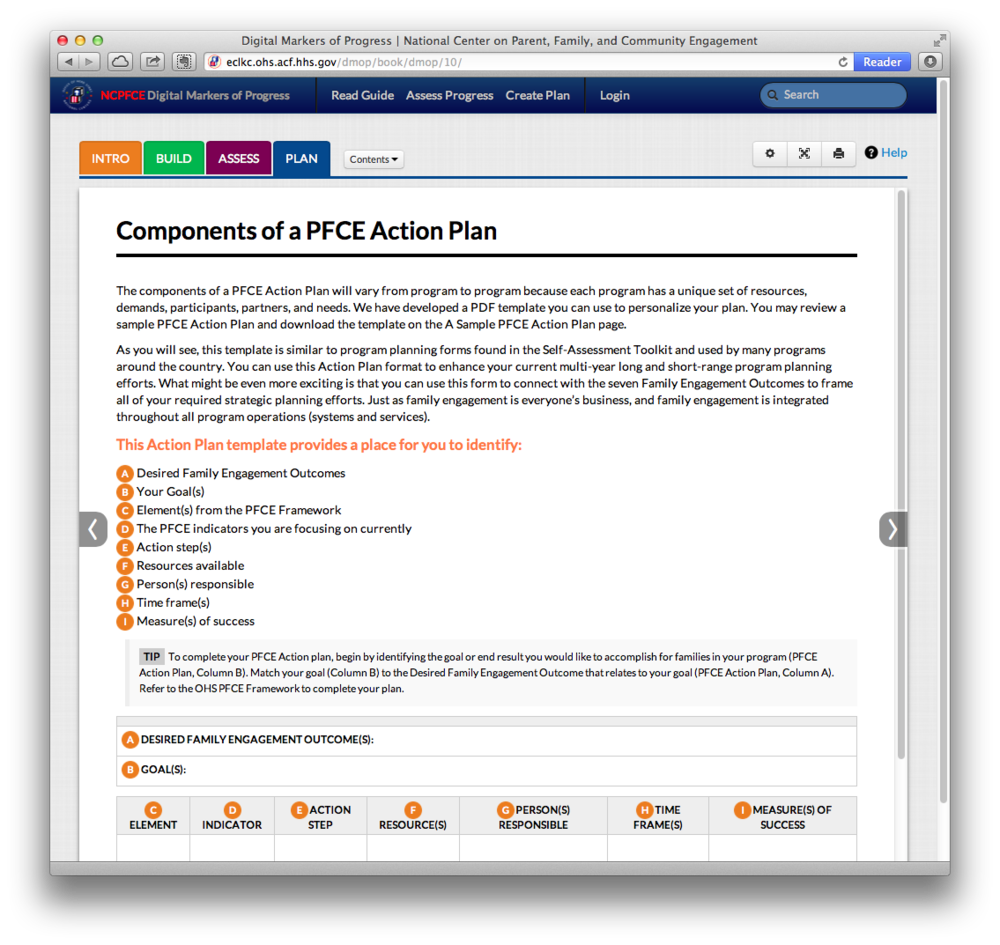 Solution: Markers of Progress
The printed version, named "Markers of Progress," was designed as a larger, workbook style format that allowed for easy note-taking and used a spiral bind for easier handling and collaboration. The layout of the printed version mirrored that of the digital solution so users could easily switch between the two.
The digital version, named "Digital Markers of Progress" (DMOP) drew much of its inspiration from digital reading experiences popularized by tablet readers. Our goal was to provide users with a similar experience for highlighting, note-taking, and remembering where you left off. The digital version was also designed to expand it functionality and features as NCPFCE made more multimedia assets available. The latest version of DMOP allowed for multi-language support and is now available in Spanish.
Launch & Support
Head Start is a large organization with lots of moving parts. Each part is responsible for ensuring the organization not only delivers results but is also compliant with policies and regulations that protect the people it's serving.
The Story+Structure and NCPFCE team worked closely other supporting organizations within Head Start to devise a clear strategy for design, testing, and development that aligned with policies and leveraged existing resources. The collaborative process of discovery, brainstorming, and testing blended seamlessly into development, launch, and ongoing support.